FRACTIONAL OWNERSHIP
HOW FRACTIONAL OWNERSHIP WORKS?


Fractional Ownership of high-tech event and video equipment's is very simple, instead of buying the whole equipment; you can now buy a share of the same equipment. When you buy a share of an equipment you just pay for what you need. So you just purchase shares, which are equivalent to the number of days per year that you will use the equipment. And you can then use it whenever you want.

Fractional ownership is a very smart way to own expensive equipment like video and event production equipment. It allows you to keep up with the newest technology,

as you can afford to upgrade your equipment more frequently and get higher end equipment, which will make you more competitive.



HOW THIS IDEA CAME INTO EXISTENCE?


The sharing economy is a fascinating concept that has mainly been used in the past with vacation homes and private jets, and lately by Uber to provide transportation for the masses John said and we now think the Video and Event industry is "ripe for the same disruption".

14 years ago, John visited the sunny Philippines during his vacation, he got so attached to the country that he flies back home to Sweden and quit his job,

sold his house and gave away his belongings and sat on the next plane back to the Manila, Philippines. He has since, never been back in Sweden and is now co-founder of Strong Media Corp, together with his life partner Sisa Karlsson. Strong Media Corp, an event and video production company which has done numerous local production projects for both local and international clients since it open its door over 13 years ago. During this year's we have learned the important of getting access to the newest technology to the lowest cost, and in our view "fractional ownership" is a great solution.
The concept of "Fractional Ownership" giving corporations and businesses all the benefits of whole ownership and more at a fraction of the cost.
---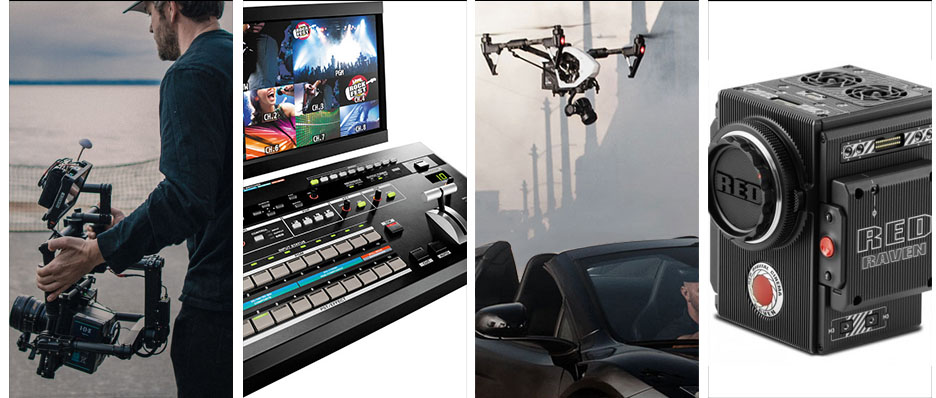 | | | | | | | |
| --- | --- | --- | --- | --- | --- | --- |
| MoVI M5 Stabilizer | | Roland V-800HD | | Inspire 1 Pro (Drone) | | RED RAVEN Cam JETPACK |
<< < prev 1 of 25 next > >>









Pay only 30-50% of the original price with Fractional Ownership.
---

FRACTIONAL EQUIPMENT HELP YOU TO BE MORE COMPETITIVE


Equipment's in this industry are key to stay successful and competitive, this high-end equipment are very expensive and have short life span as the technology is getting obsolete. So event and video production companies need to find new ways to access their own top notch equipment to stay competitive.

This is where Strong Media Corp and its Fractional Ownership program come in. The company's long experience within the event and video industry and knowledgeable about the latest equipment helped during the development of the concept of making equipment more accessible.

MAKING HIGH-END EQUIPMENT AFFORDABLE


We want to make high end video and event equipment affordable to all players. That's the theory behind fractional equipment ownership managed by Strong Media Corp., in which desired equipment is purchased under a multi-owner structure where cost and access to the equipment is shared. Most of our equipment are purchased by 2 or max 3 owners, to keep a good accessibility to the equipment.

"Fractional Ownership allows you to create a better connection between the time you use the equipment and the amount of money you pay for it," says John Karlsson. You will not end up spending big money on something that you only use a couple of days per month.

"Think of it like this: A whole pie may look delicious, but it doesn't make financial sense to buy the entire dessert if you are just having a few bites."

THE CONCEPT OF FRACTIONAL EQUIPMENT OWNERSHIP


Fractional Ownership will increase your buying power by up to 3 times. Say you are looking to buy an equipment for 100,000Php. If you now share this equipment with three other investors under the management of Strong Media Corp. You now only need to spend 33,000Php and still have access to the very same equipment for 25-30 days a year. If you then can earn 15,000Php per project using the same equipment you will earn on your investment after only three projects.

If you divide the initial investment of 33,000Php per 25 Days for the first year, you cost per usage is 1,320Php per day. Compared this with rental cost and the benefit of that you will own the equipment (can sell it and get the return of your investment). Then after the first year you can continue to use the equipment, but now for free.
Production Equipment
Buy your production equipment, the smart way, pay only 30-50% of the original price with Fractional Ownership.
---
Pay only 30-50% of the original price with Fractional Ownership.
---
DO MORE WITH LESS!


Fractional ownership of high-tech equipment provides a solution never before been available in the Philippines. Using the Fractional Ownership Program under Strong Media Corps Management, fractional owners gain access to new equipment for a fraction of the cost. Allowing them to compete and win new clients and grow their business. The reality is that all that time an equipment is not being used, economic value is going unrealized.


THE BUYERS SET THE RULES.


If you can't find something that interests you? Let us know if you would like to start a fractional scheme around a new equipment and if we think there is enough interest in it, we'll add it to our scheme. Strong Media Corp. put together sample packages for Fractional Ownership, but the prospective buyers are the one who has the final word on what should be included. We always welcome new ideas and programs from serious buyers.


STRONG MEDIA CORP. THE MANAGEMENT COMPANY


Typically, Strong Media Corp manage the asset on behalf of the owners, who shares the operating cost (storage, bookings, staffing, legal, contracts, maintenance, etc). For this service Strong Media Corp will have access to the equipment(s) equivalent to the number of days one fractional owner has, without having an ownership part.

THE OWNERS.


The purchaser (fractional owners) will end up owning the asset. Therefore, they can sell their ownership whenever they deem necessary and get the return of their investment. And the owners also decide how many times per year, each owner can use the equipment, usually Strong Media Corp, as a management company, gives the initial days, 35 days per year for 2 owners and 25 times for 3 owners. This can be changed by the owners at any time.


THE SHARING OF OWNERSHIP


"The high-tech equipment industry for video and event sector is big, fast growing and hasn't changed for many years and could be made a lot better," John points out. "That's what we'd like to see."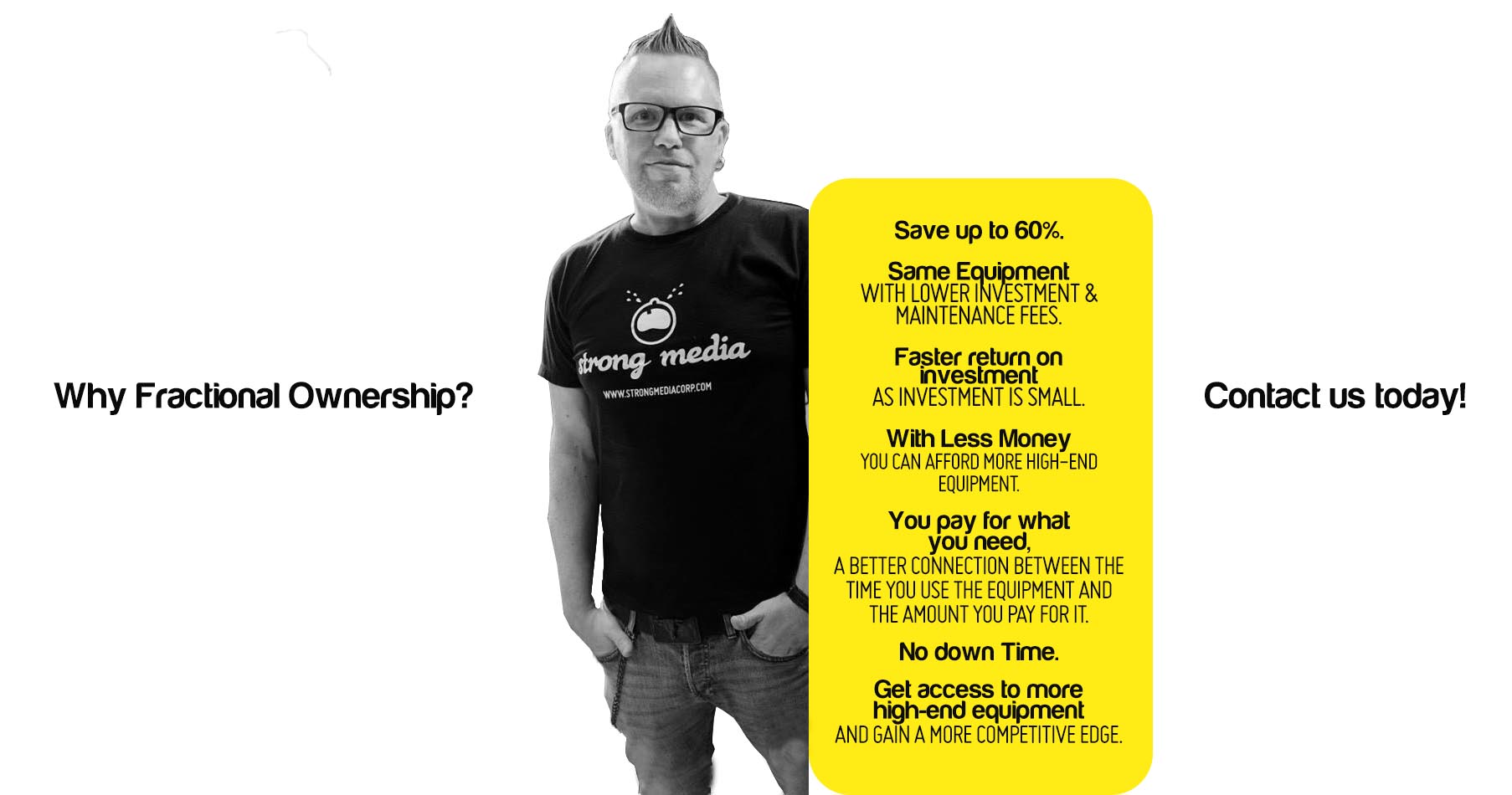 BEING STRONG
Being strong defines who we are, how we think and how we work. Being strong means being passionate about making a difference. We strive to make life easier through intelligent, distinct and beautiful brand experiences. At the core is always a Strong idea, an ambitious vision that captures the essence of a brand and pushes the brand forward. We are Strong. Media
WHAT WE DO!
We are Strong Media, an all-inclusive Creative Agency, based in the Philippines with over 17 years of experience. At 'Strong Media' we love to design, are keen on motion graphics, attached to video production, crazy about events, fond of Stage Design and Fabrication, enjoy 3D modeling and animation, We can't resist creative thinking, have a weakness for Creating Storyboards, get good vibrations from voice-over, have a taste for creative writing, take delight in talent booking, we also offer teleprompter, Live streaming, Photo Video Coverage.
OUR OFFICE
When Philippine-based Creative Aganecy 'Strong Media' grew too large for their old office, they built a 3 story building urban space into a stunning open-concept location for their entire team. The new Strong Media office balances industrial elements with cozy, collaborative spaces, such as a design library and kitchen.
Our creative space
Our office / Building is awesome, just like our team. Want to visit us?
Come over and have a pizza together!